Discover Mont Ventoux
nearby our hotel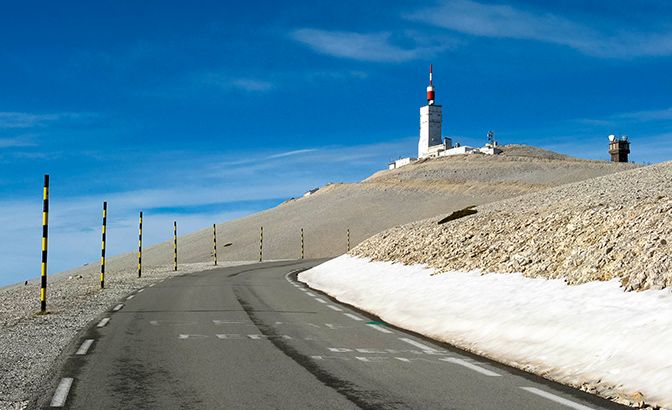 A must for cyclists and hikers, Mont Ventoux shines with beauty and majesty at an altitude of 1912 m, with its foothills covered in vineyards, the forest shielding its wonderful surroundings and its bald summit noticeable from afar. Dubbed the Giant of Provence or Mont Chauve (Bald Mountain), it offers one of the most extensive vistas in Europe, stretching from the Pelvoux Massif to the Cévennes mountains, passing by Luberon, the Sainte-Victoire mountain, Marseille, the Alpilles mountains and the Rhone Valley. Classed as a biosphere reserve by UNESCO, it has exceptional fauna and flora.
In warmer months, it's the legendary peak that every cyclist wants to conquer. This is where legends are born on the Tour de France, and where the Paris-Nice and Dauphiné races love to come back to. If you love hiking or nature, this area of 26,000 hectares provides a formidable playground thanks to the large roads that cross Mont Ventoux from either end that you can take either during the day or at night (indeed, watching a sunrise from Mont Ventoux is like watching the world being born!)
In winter, the ski resort of Mont Serein, located on the northern face of Mont Ventoux provides perfect fun for all sorts of winter sports (including Alpine skiing, snowboarding and sledging), as well as snow-shoeing.
Our hotel in Carpentras is located 17 km from Bédoin and 20 km from Malaucène, some of the top departure points for going up Mont Ventoux by bike.