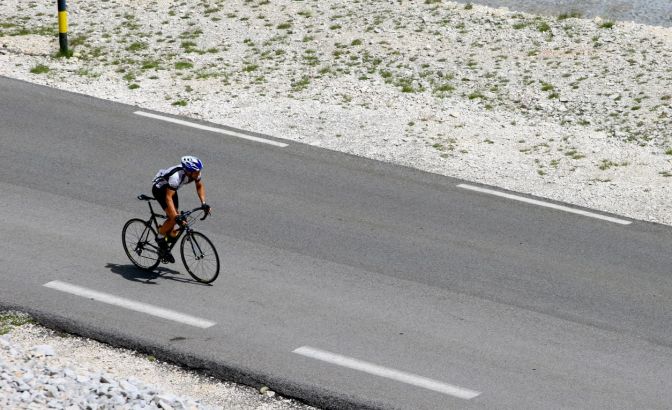 Conquering the Giant of Provence: Mont Ventoux cycling with our hotel excursions
Mont Ventoux is a mythical peak for cyclists from all over the world. With Safari Hotel's excursions, you can conquer this mountain by bike and discover Provence. Our young and dynamic family hotel is located in Carpentras, in the Vaucluse, and we offer activities for the whole family! Whether you are a sports fan or simply curious to discover this beautiful region, our Mont Ventoux bike tours are made for you!

Experience the excitement and sense of achievement
Mont Ventoux, also known as the "Giant of Provence", has an eventful history dating back to Roman times. The first recorded bicycle ascent was in 1882, and it quickly became a renowned challenge for cyclists. It even made an appearance in the famous Tour de France in 1951 and has featured regularly since. The mountain is known for its unpredictable winds, with gusts of up to 150 km/h, making it a particularly challenging climb. But this only adds to the excitement and sense of achievement of those who conquer its slopes.
Whether you are a professional cyclist or simply looking for a new adventure, climbing Mont Ventoux by bike will certainly be a memorable experience. From its rich history to the physical and mental challenges it presents, there is no doubt that Mont Ventoux ranks among the world's top cycling destinations.

The best time to cycle on Mont Ventoux
One of the best times to tackle Mont Ventoux by bike is in spring. The weather is generally mild and stable, which is perfect for a challenging ride on the mountain's famous slopes. Spring is also not as busy as other times of the year, allowing cyclists to enjoy beautiful views without the hustle and bustle.
The Safari Hotel, located at the foot of Mont Ventoux, offers several accommodation options for cyclists wishing to take on this famous challenge. Guests can also rent bikes, plan their route with the help of experienced staff members and enjoy post-ride facilities such as an outdoor pool and spa treatments. Whatever the time of year, a stay at the Safari Hotel promises a memorable cycling experience on Mont Ventoux.

Mont Ventoux cycling with our expert guides
Have you ever dreamed of conquering the famous "Beast of Provence"? Look no further than a stay at the Hotel Safari in Carpentas, which specialises in extraordinary cycling experiences on Mont Ventoux. The hotel offers a range of options for cyclists, from guided tours to bike rentals to rest stops along the route.
And after an exhausting day conquering the mountains, relax and recharge your batteries at the hotel spa or enjoy delicious local cuisine at the Basque restaurant. Make your dream of cycling on Mont Ventoux a reality with a stay at the Safari Hotel in Carpentas.